Finding A Special Event Venue in NYC
In a way, our job as Brooklyn caterers is simple. (It's not, actually, but hear me out.)
We help clients conjure up their dream catered meal, figure out the most effective, expedient—and delicious!—way to transfer that dream to the plate, and then come game day, ensure that every single guest gets the exact same experience on every single plate.
Simple, right?
But the setting is just as important. And time and time again, we find that selecting a venue can be among the most challenging parts of the event-planning cycle.
Why? For starters, there's sheer numbers: Renting a venue is expensive. People worry they'll make a mistake in choosing, and be left regretting their decision when the space doesn't live up to expectations (or when hidden costs get, well, unhidden).
For perspective, we reached out to Jules Miller, founder of The Revelry Cooperative, a boutique event space consultancy. Her advice to those booking an event space?
"Before signing a contract with a venue, make sure you are aware of all the costs associated with the rental, such as staffing, A/V equipment, administrative fees, etc., and what the insurance requirements are to make sure all your vendors are able to meet them. With a raw space, I always recommend clients get quotes from a few different vendors in each category so that they have an idea of what the cost of the entire event will be."
Another challenge with venues is simply finding them. Given their physical size, venues can be oddly invisible. I can't count the number of times I've been at an event and someone's said "I wish I'd known about this place when I was getting married!" Even in a city as established as New York, event venues pop up all the time, and it often takes a while for them to show up on the radar.
Because we interface with multiple event venues every day, we have a pretty good idea of what's out there, and we try to present clients with a mix of established and up-and-coming venues to choose from.
So with that in mind, and with the New York City holiday party and special event season fast approaching, we wanted to highlight a few venues you might not know about but are well worth investigating.
A capacious open gallery space in Long Island City, Sound River is like a blank palette awaiting your color. That's not to say it's bland or uninteresting; the sprawling, 5,500 square foot indoor space features 30-foot ceilings painted in cool white. As photos attest, it's an invitation to play and have a bit of fun with lighting design (one of the easiest and most rewarding ways to add a splash of drama to the event).
Speaking of drama, the venue is directly on the East River, affording a truly unique experience of the city (not to mention a fantastic view). And at the end of the day, that's what great spaces do: Take us out of the ordinary, and make us feel like we're in a place we've never been before. Even if it's only for a few hours!
Special bonus: You can arrive by boat, get married on the pier, and have water taxis bring your guests to and fro. Pretty sick!
This space is also located in Long Island City, one of our favorite—and least-known—neighborhoods. It's home to art galleries and museums, sculpture parks and much more. It's also a great place from which to step back and admire the incredible living entity called New York City.
For background on the venue, we turned again to Jules Miller of The Revelry Cooperative. She tells us:
"The Bordone was once a one-story warehouse. The owner and his son-in-law decided to build on the property in order to rent the space out to commercial tenants. Fast forward a year, and the owner's daughter came to check out the progress. When she stepped out onto the third-floor terrace, with the most spectacular, unobstructed views of the Manhattan skyline, the vision of turning it into an event venue was born. In my 10+ years in the events industry, I have never seen outdoor space to match The Bordone."
Similar in size to Sound River Studios, the Bordone offers a slightly different twist on the "outside looking in" New York City event venue experience.
Located in Brooklyn, this historic space was once a brass foundry. These days, it's a wide-open, brick-walled harkening back to the City's former incarnation as a center of industry.
Events at the Green Building have a very different flavor than those overlooking the City. While the space is still open and inviting, with a private walled courtyard entered through dramatic glass doors, there's a feeling of privacy and intimacy here, even with a large crowd (the venue accommodates up to 250 guests for cocktail events or 160 for sit-down meals).
This has the effect of focusing attention inwards a bit. Not better or worse than the open and expansive venues, but just a little taste of what kind of magic different venues bring to events.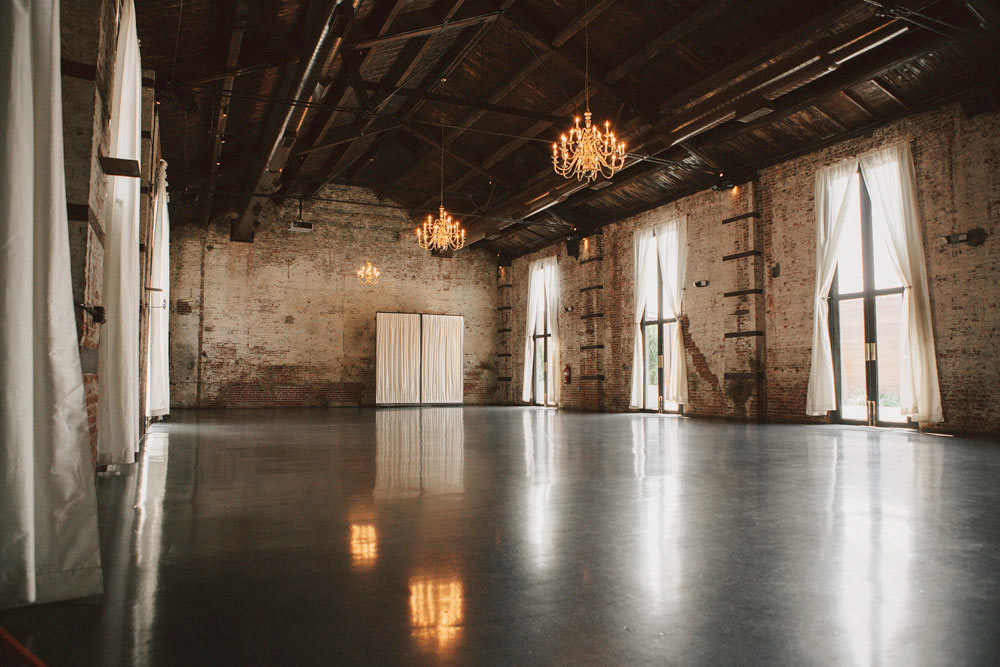 More than anything, we hope this gives you food for thought when it comes to selecting a venue for holiday parties, a wedding space, or any special event. Yes, the numbers can get big, but it's very hard to go wrong when you work with beautiful spaces run by experienced and helpful staff. More just a question of how you want the event to feel for your guests.
And just as importantly, for yourself.
We keep a running list of our favorite special event venues in and around New York City. If you ever need help or support finding an events space for your catered event, drop us a line. You know how to reach us.