Brooklyn Party Halls and Wedding Venues from a NYC Top Caterer
We've been caterers in Brooklyn for a while now, and there's pretty much no place we haven't catered: Glorious farms, muddy fields, the top of the Chrysler Building, and more private homes and catering halls in Brooklyn than we can count.
But a few event spaces, private party and wedding venues in Brooklyn and the NYC metropolitan area stand out for their location, unique feel, and exceptional management. Below, find an alphabetized list of a handful of our favorite places in NYC to host a party.
And if you're looking for a hip, cozy and close-in party venue all to yourself, Red Table Catering offers a party hall and event venue rental in Williamsburg, Brooklyn. Convenient to the L and G trains, it's an intimate space perfect for up to 70 guests.

This renovated former metalworking factory is a versatile events space and one of the favorite wedding venues in Brooklyn, NY. Modern renovations only highlight the building's industrial past, accentuating the original brick walls, large wooden doors and magnificent high ceiling with a skylight.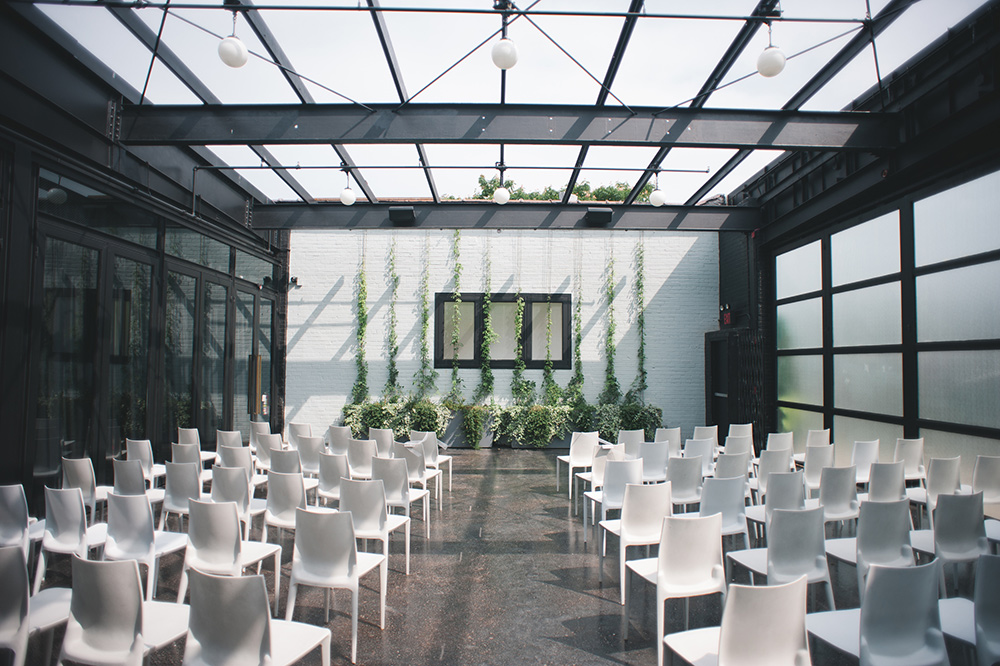 This swank building dates back to 1916, and once served as a classic car restoration shop. Since 2013 it's hosted stylish weddings, corporate events, and photo shoots. Special features include a full lounge, an open-air courtyard, and an enormous reception hall.

With prime locations throughout Brooklyn, BK Venues is a family of unique spaces that are open and adaptable to your event needs. Consisting of modern upscale lofts, converted warehouses, and rustic buildings, these affordable spaces are ready to host your one-of-a-kind event.

Unparalleled outdoor space and panoramic views of the Manhattan skyline, Long Island City, and the Queensboro Bridge make this Long Island City venue a prime outdoor wedding location in NYC. With over 5000 square feet of outdoor and rooftop space, The Bordone is well-suited for large weddings and events looking to utilize an outdoor setting.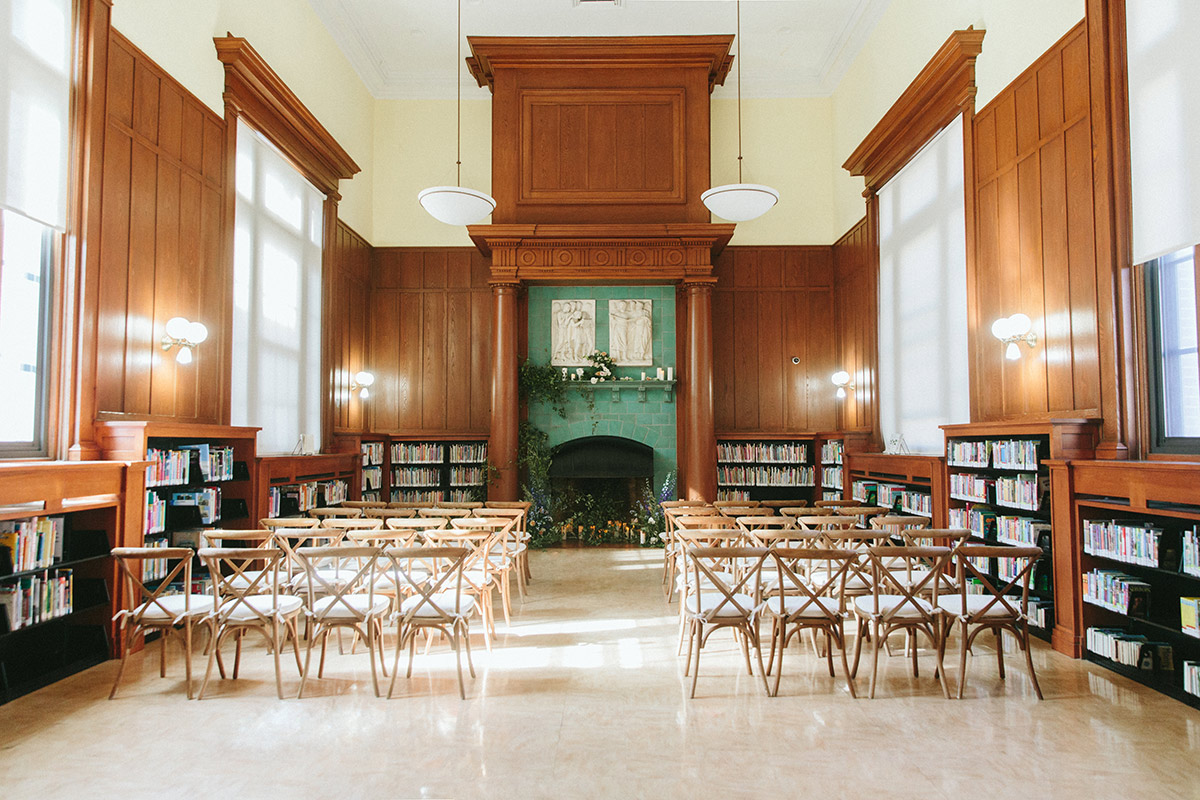 Built in 1906, this Classical Revival landmark building is a marvel of early twentieth-century elegance. The space offers a vaulted stained-glass ceiling and archway, freestanding oak columns, two tiled fireplaces with brass hoods and andirons, and a small outdoor garden for intimate weddings and events. This historic building is located in the heart of Park Slope, one of Brooklyn's most beautiful neighborhoods.

Dobbin Street is a centrally located, tailored Williamsburg event space steps away from picturesque McCarren Park. The transformed Brooklyn factory offers stunning Manhattan skyline views and vaulted 22-foot ceilings, making it an in-demand Brooklyn wedding venue year-round.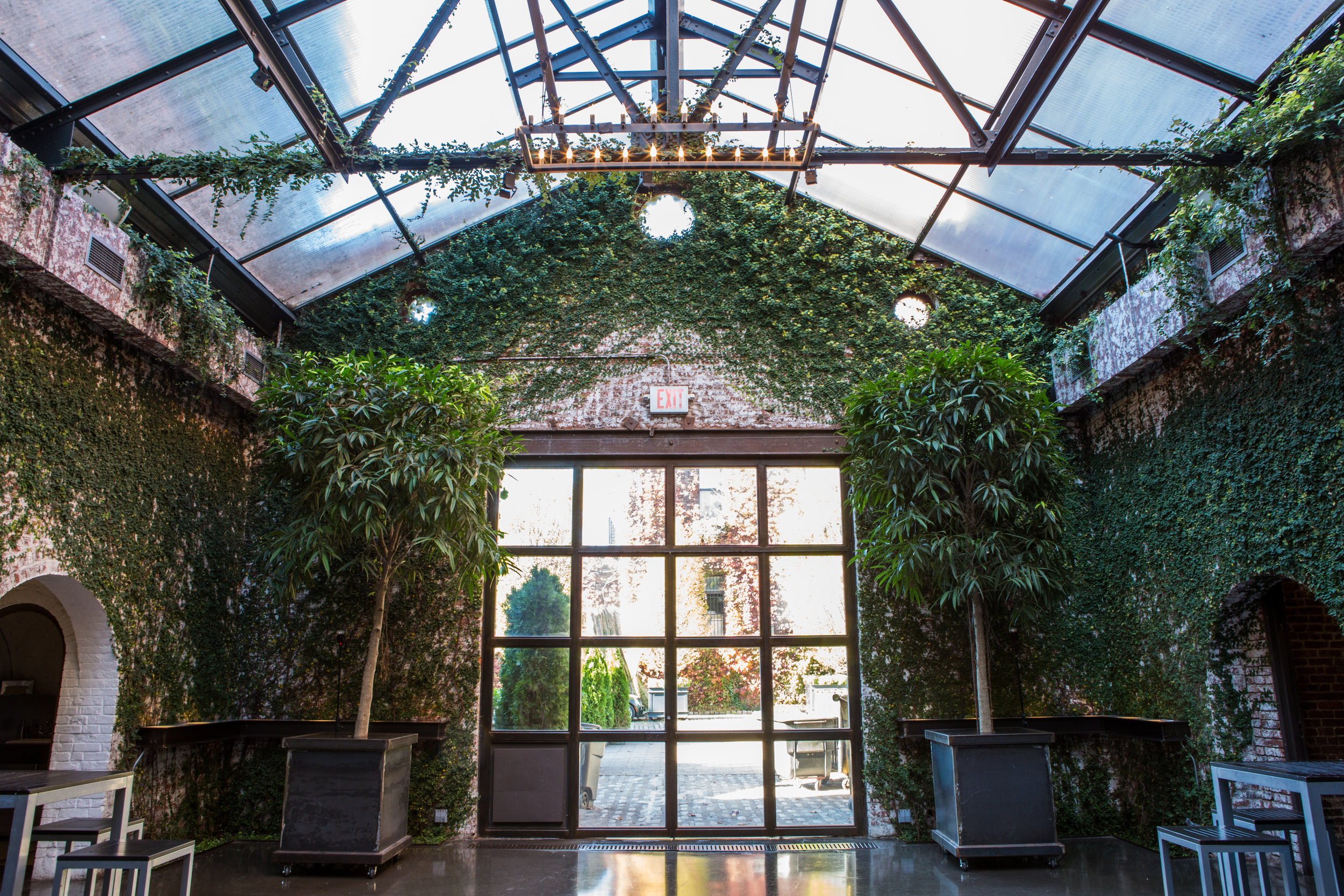 A showstopping 19th-century building that's been meticulously restored to showcase its industrial character and stunning proportions. Its expansive kitchen facilities make it a cherished Long Island City wedding venue for many of the top Brooklyn catering companies (including, of course, ourselves!).

This classic Manhattan venue is located directly behind the Empire State Building. Oversized picture windows, whitewashed walls and floors provide a dramatic backdrop for any special occasion. The rooftop's 360-degree views of the city will truly blow your guests away!

An industrial-chic event and party space in Brooklyn with original exposed brick walls, dramatic chandeliers set against a wood-beamed ceiling, an intimate suite, and floor-to-ceiling glass doors opening up to a private courtyard.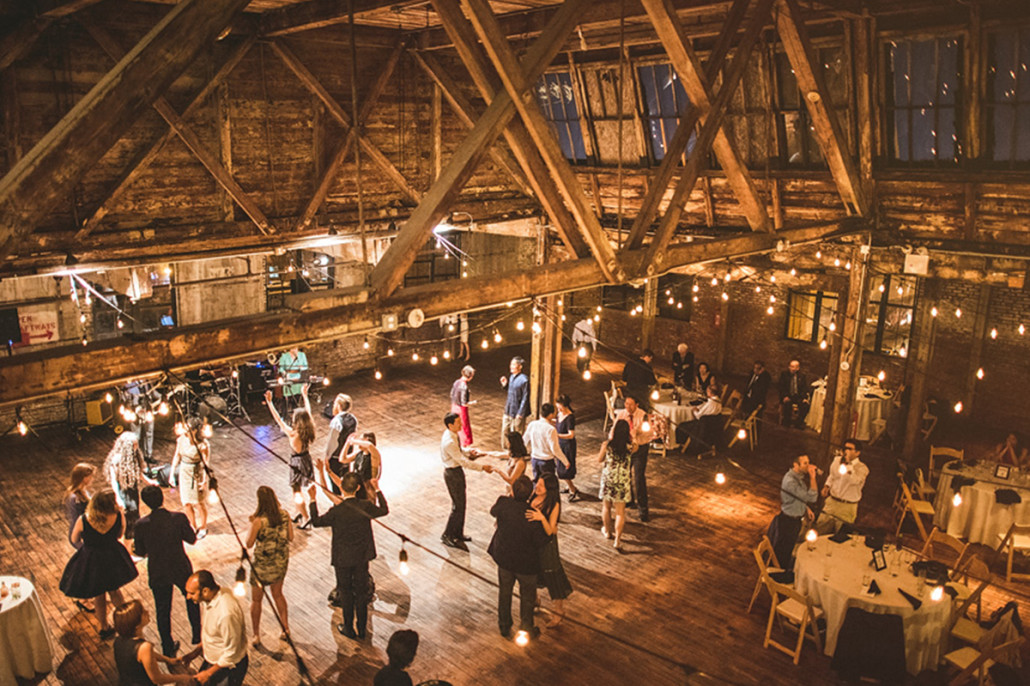 Originally a pre-WWII era warehouse, this expansive venue has been restored to its original raw appearance, with exposed high-beam ceilings, wooden floors, and open window skylights. A rooftop boasting a magnificent view of the Manhattan skyline lends a cinematic backdrop to large celebrations and catered events in Brooklyn.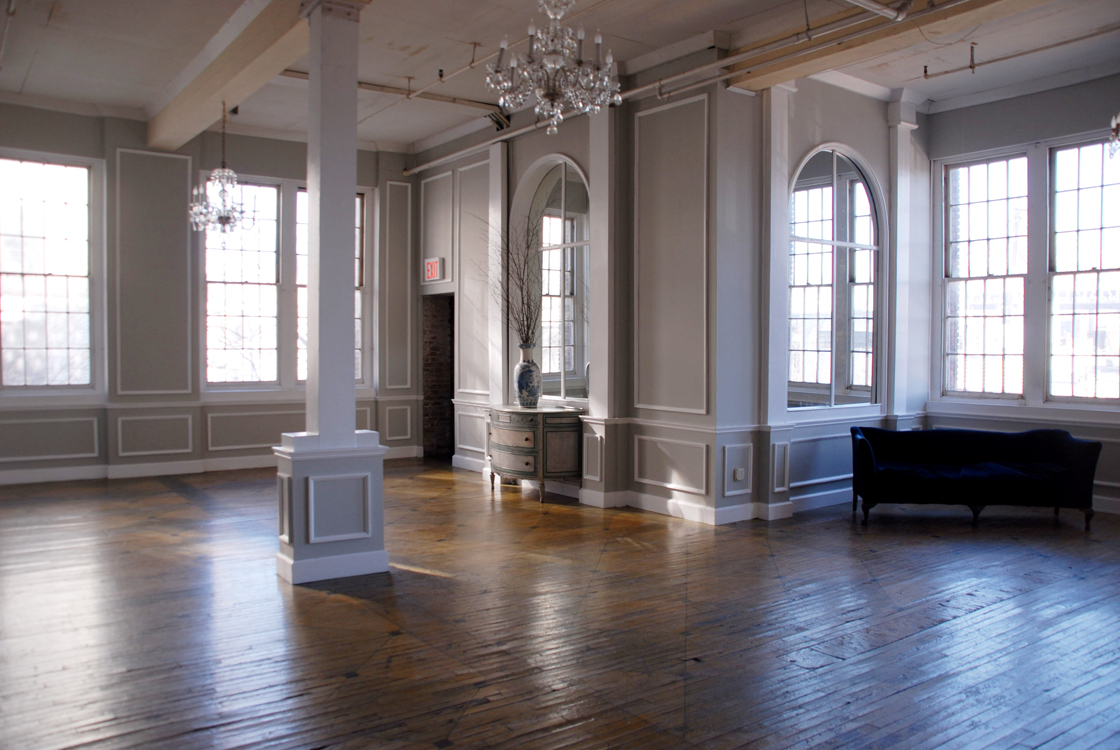 Dating back to 1909, the Metropolitan Building was originally an electrical parts factory. After decades of neglect, it was repurposed as an artisan studio and more recently a venue for events, photo shoots and films. It is truly a unique and inspiring private party venue in NYC.

A beautifully manicured terrace and a stylish interior loft overlooking the Manhattan skyline give this wedding venue in NYC a distinctly classic air.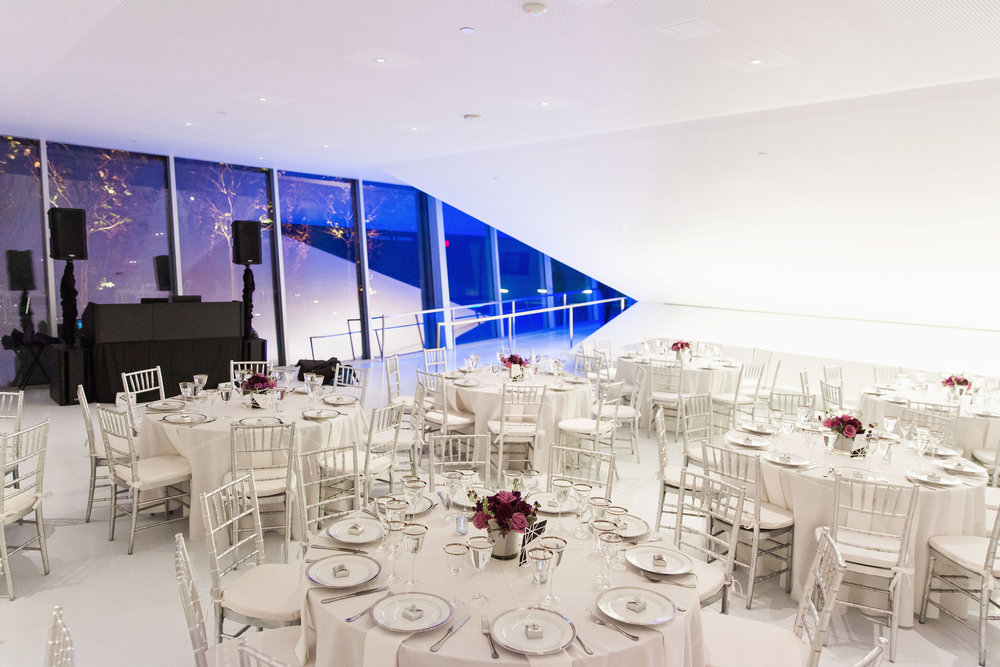 If you're looking for a modern, minimalist and unique wedding location in NYC, the Museum of the Moving Image is the venue. The galleries remain open throughout private events, so guests can enjoy the many interactive experiences, iconic artifacts and vintage video games.

A stunning piece of New York history, the Museum was constructed to house the New York City Pavillion at the 1939 World's Fair and shares its designer—Aymar Embury III—with the Central Park Zoo and the Robert F. Kennedy Bridge (formerly the Triborough Bridge). These days, the venue is an in-demand gallery setting for weddings with 75 – 600 guests.

Located in the West Village and Highline district of New York City, Ramscale features awe-inspiring views of Manhattan, the Hudson River, and all the iconic skyscrapers from One World Trade Center to the Empire State Building. Come evening, the transition from day to night serves as a dramatic setting for events from private parties to weddings.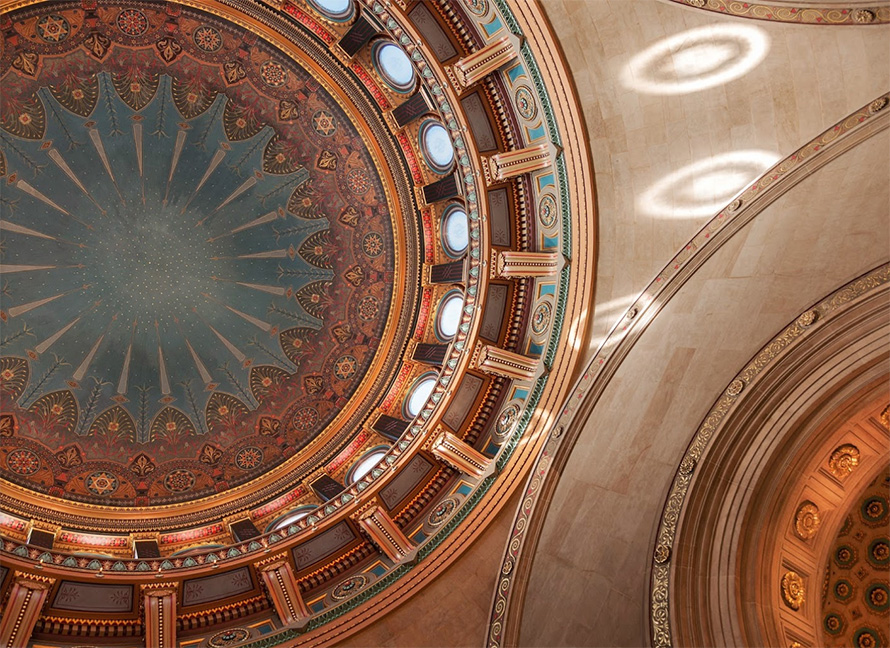 Weylin occupies the site of the iconic former Williamsburgh Savings Bank, built by renowned architect George B. Post, with an interior designed by Peter B. Wright in 1875. Weylin' s spectacular frescoed dome, intricate mosaics, wooden carvings, and period decor make it a perfect Williamsburg wedding venue and event space.